Josué Daniel González
Drum set / percussion / vibraphone, marimbaphone, xylophone


Schlagzeug / Perkussion / Vibraphon, Marimbaphon, Xylophon




Born 1992 in Mérida/Venezuela. (Currently lives there)
Drummer / (classical) percussionist
Orchestral trained and experienced drummer in a wide range of music, like:
Venezuelan fusion music, traditional Jazz, Latin-American rhythms, classical music, Pop classics, Blues and Rock 'n Roll.
Member of the Venezuelan Sistema Nacional de Orquestas.
Music Studies
Escuela de Música del Estado Mérida (E.M.E.M. in Spanish), Mérida/Venezuela: music theory and guitar studies.
Conservatorio de Música Simón Bolívar, Caracas/Venezuela: percussion studies.
Universidad de Los Andes (U.L.A. in Spanish), Mérida/Venezuela: Undergraduate degree in Classical Percussion Performance.
Final Research Work (U.L.A.)
Proposal for the study of snare drum through the Didactic Transposition Theory.
Scholarship and teaching assistantship
to study the Master of Music, Jazz and Contemporary Music - Drums program for Fall 2021 at Longy School of Music of Bard College in Boston, Massachusetts.
Orchestral experience
as a member of the Orquesta Municipal de Caracas and Orquesta Sinfónica Simón Bolívar de Venezuela.

He has been invited by among others from:
Orquesta Sinfónica de Venezuela, Orquesta Sinfónica Teresa Carreño, Orquesta Filarmónica de Caracas, and Orquesta de Rock Sinfónico Simón Bolívar.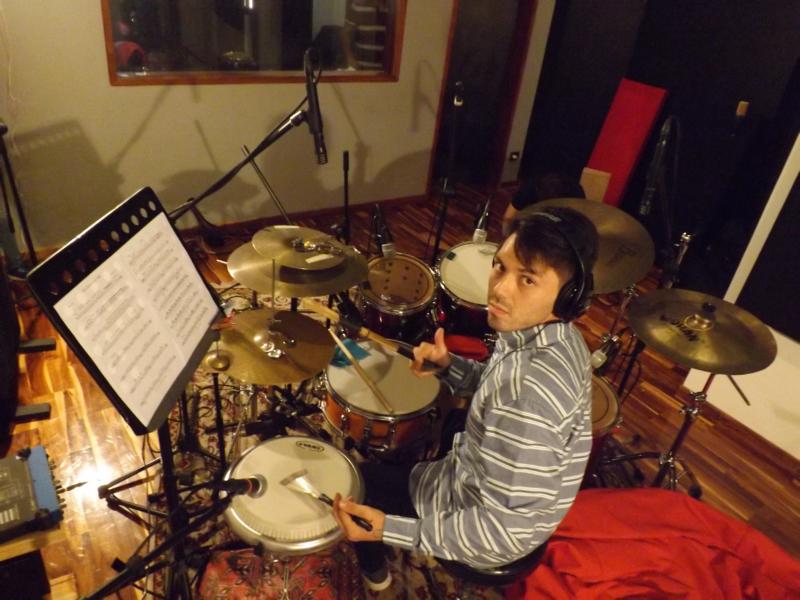 Collaborations/Bands/Ensembles
Mr. Cool and Blueschasers and Ananda Jazz Ensamble (Abigail Romero)
Jazz en Triciclo
Fluxus Trio
Betto Alzate y La Beat Band
Tambores del Valle, Pablo Gil

Musically-literary Duo TonSatz

German-Venezuelan cooperation:
In times of Corona the world grows together. Café Zeitvergessen in Venezuela!

The setting to music,"Der Kirschholztisch/The Cherrywood Table", revised in 2020 with a specific drums/percussion-part and double bass in minimalistic style.

Video: Cherrywood Table by Eva Batt - Josuepercu (Drums/Percussion Recording)
"Der Kirschholztisch" (The Cherrywood Table) | Music © Eva Batt
The composition appears on the audio CD Café Zeitvergessen (Losing track of time Café).
Café Zeitvergessen is one of the narratives from author Christiane Schwarze which you find in the book Imaginäre Begegnungen/Imaginary Encounters.
Publisher: © 2015 Wendepunkt Verlag (Germany).
Book [ISBN 978-3942688727]
CD [ISBN 978-3-942688-73-4]
Reading Sample Der Kirschholztisch/The Cherrywood Table (DE / EN)
Musicians:
Piano – Eva Batt/Germany
Double Bass – Alberto Mora/Venezuela
Drums/Percussion – Josué Daniel González/Venezuela

Recorded at Imperatori Estudios | Mérida/Venezuela
Sound and Mixing engineer: Marco Imperatori
Assistant engineer: Carlos Soto

Cameras: Katy González & Lourdes Palomino
Josué Daniel González:
"Respect to the author Christiane, and the duo TonSatz. I really like the path of your projects, that's a great thing, how the composer has applied the thoughts and perception of the author to her music. I think the art that both have developed reflects in their nice personality and the way to do art. I love the message of encouraging artists: "to grow and to free themselves from darkness – for a better living". That is an amazing inspiration!"