Finding peace – somewhere?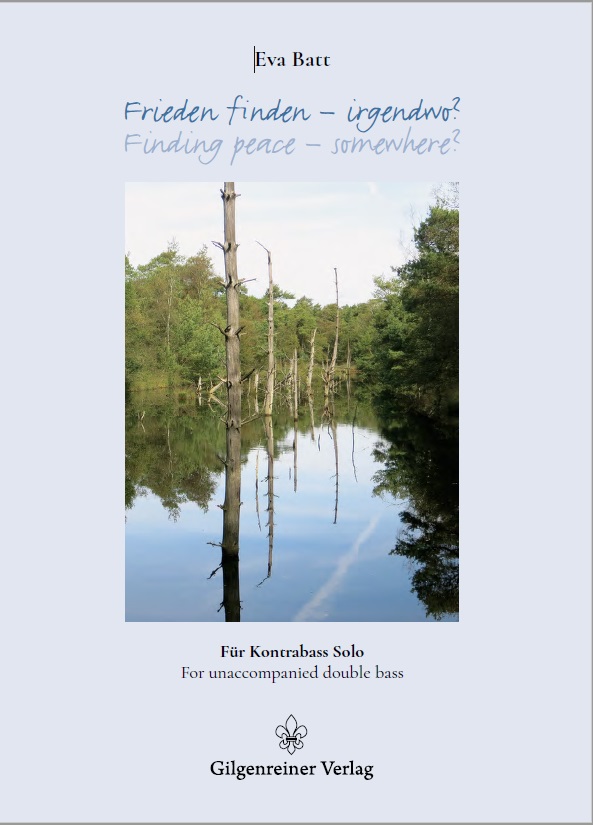 Sheet Music | Finding peace – somewhere? | For unaccompanied double bass
Publisher: © 2021 Gilgenreiner Verlag, Switzerland
[ISMN 979-0-700268-34-3]
Released on August 4, 2021
Eva Batt's composition Finding peace – somewhere? is a setting of the poem Dark bog by the author Christiane Schwarze. The poem was also printed in the sheet music.
The poem and the present composition for double bass solo were created in 2020 during a coordinated work- and artist-in-residency scholarship, that was granted to the artistic duo from the city of Soltau / Germany and the Freundeskreis Künstlerwohnung.
The impressive landscape of the Lüneburg Heath, especially the Pietzmoor which began to arise about 10.000 years ago, was the source of inspiration for the poem and the composition.
Hearing Sample
Finding peace – somewhere? | For unaccompanied double bass | Composer Eva Batt

Composition played and recorded by Matej Varga ⦁ double bass ⦁ Slovakia | Germany / Munich. Permanent member of the Orchestra of the State Theatre Gärtnerplatz / Munich / Germany (i. a. Helmut-Spehl-Prize and award of the city of Banská Bystrica).
Eva Batt about her composition
"For me, the double bass is not just a typical orchestral instrument that, with its deep tones, lays the foundation for a large ensemble. On the contrary, I think it is predestined and particularly attractive for solo performances because of its large pitch range, its rich sound and the technical possibilities of expression it offers.
However, there is unfortunately still relatively little literature for double bass solo concerts. Therefore, I felt the need to compose a piece that reveals the various and modern playing possibilities as well as their sound intensities.
My aim was to create tone sequences/melodic arcs which, supported by sparingly used intervals, create songful and at the same time harmonic sound atmospheres. Thereby delicate melodies contrast with rhythmically stringent – sometimes also percussive – passages, in reference to the peace-seekers who are always interrupted, irritated and disturbed by the unexpected.
Whether an individual place of peace can ultimately be found, or the search will remain an everlasting one, is deliberately left open – also in the compositional-harmonic sense."
Dark bog
Is the water reflected in the sky?
Wooden witnesses point with weathered fingers
to confused blue.
To grow, the peat layers of love took millennia.
Spades stabbed out time.
Memory burned.
Merely a hyphen deserted in this war.
Pretending today, to be a contrail,
that drifts white on ponds.
Rain flows through black veins,
the muddy chest rises.
Year after year, a millimetre of peace grows.
Even if the trees have died –
the heart is still beating.
© Christiane Schwarze
Review in the magazin das Orchester (Schott Music)
by Prof. Dr. Stefan Drees (University of Music/Hochschule für Musik "Hanns Eisler" Berlin).
Magazin Edition: 02/2022, p. 67.
Review in the magazin nmz (neue musikzeitung) from October, 25th of 2022
Online Item
Or look at: Reviews