Elke Saller – Marimbaphon & Perkussion /

Marimbaphone & Percussion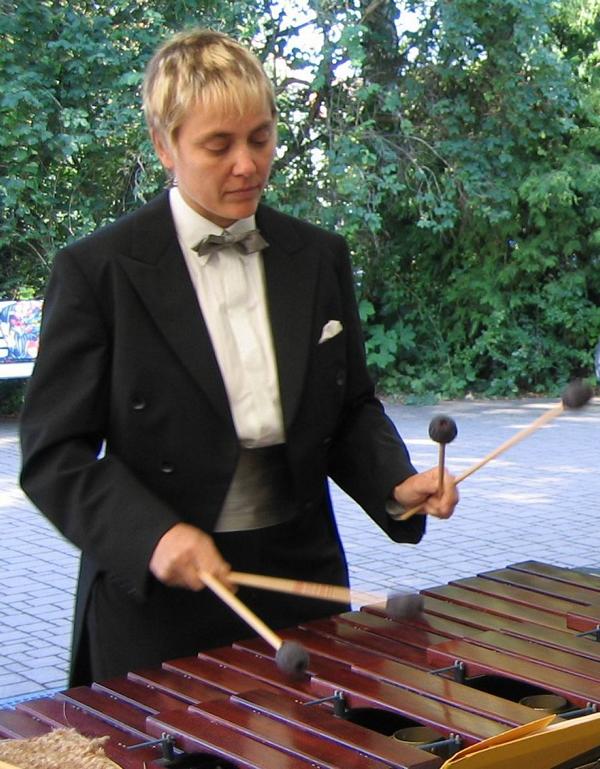 Studium und Tätigkeitsfelder
Studium an der Akademie für Tonkunst in Darmstadt
U. a. Mitwirkung am Staatstheater Darmstadt und an der Opernbühne Frankfurt
Lehrtätigkeit an der Hochschule für Musik und Darstellende Kunst Hamburg,
an der Musikschule Offenbach und an der Musikschule Alsfeld und Lauterbach
Gründung einer eigenen Schlagzeugschule mit ganzheitlichem Schwerpunkt
Gründung und Leitung der Sambagruppe "SambAlegria" in Alsfeld
Studies and involvements
Studied at the Academy of Music in Darmstadt/Germany

i. a. Participation in the Staatstheater Darmstadt and at the Opernbühne Frankfurt

Teaching at the University of Music and Performing Arts Hamburg,


at the music school Offenbach and at the music school Alsfeld and Lauterbach


Founder of her own drum school with a holistic focus

Founder and director of the samba group "SambAlegria" in Alsfeld

Projekte und CD-Produktionen
unter anderem
mit dem Frankfurter Mutare-Ensemble
den Kinderliedermachern Rolf Zuckowski, Fredrik Vahle und Beate Lambert
mit "Flex à Ton" – ihrem eigenen Duo (Klassik, Jazz, Folklore bis Ethno-Soul)
Hör-CD mit dem Duo TonSatz Das Schweigen der Schatten
(Voraussichtlicher Erscheinungstermin 1. Hj. 2020)
Wir freuen uns, dass Elke Saller als Gastmusikerin zu hören sein wird.
Projects and CD productions
among others
with the Frankfurt mutare ensemble

with the children's songwriters Rolf Zuckowski, Fredrik Vahle and Beate Lambert

with "Flex à Ton" - her own duo (classical music, jazz, folklore to ethno-soul)

Audiobook with the Duo TonSatz The Silence of the Shadows


(Expected release date first half of 2020)




We are pleased that Elke Saller will be heard on our upcoming CD.