The Silence of the Shadows – Mosaic of a Search |
Poetry & Music
Audio-CD | Poetry & Music


Lyrical-musical audio CD
to the Poetry book of the same name with selected poems.
The 32-page booklet of the CD contains the recited poems, both in German and in English and Swedish translation.
Eva Batt's compositions alternate with ten poems, which are recited by the author Christiane Schwarze herself. In some cases, text and music are superimposed, in others they are presented solitary. In each case, however, the works explicitly refer to each other. The composer Eva Batt meets the author's literary diversity and intensity with her own distinctive musical language, in which she incorporates stylistic elements from classical music, jazz and world music.
CD in digipack
Total playing time: 59:44 minutes
CD-Cover, Assemblage Ausgebrannt: © Christiane Schwarze

Release date June 22, 2020
© 2020 Baltrum Verlag, Haßloch/Germany | ISBN 978-3-00-065828-0

Selected by jpc for the list of audio book highlights:
https://www.jpc.de/jpcng/books/browse/-/node/1000000600
Content
Feelings of love, pain, loss and hope are looking for words as well as social grievances, developments and changes.
If a shadow lies over our own soul, we often feel speechless and powerlessly trapped in the darkness.

With her subtle poetry, rich in imagery, Christiane Schwarze encourages us to sharpen our eyes for the good in such situations, to gather new strength, to keep fighting and finally to free ourselves from the gloom.
She also wants to make the connection between humans and nature tangible. Even though this has been pushed into the background in the modern age of an urban society: there is no life without nature. Nature gives us an external and internal sense of belonging and harbours healing powers.
In summary, the message is:
Behind the shadow lives the light. It's worth going there.
Participants

Duo TonSatz
Christiane Schwarze Lyric & Recitation • Germany
Eva Batt Composition & Piano • Germany
Musical Guests
Angela Frontera • Drums & Percussion • Brasilia | Germany
Emilio Sacarias Estrada Bencomo • Violin • Cuba | Sweden
Nils Ossman • Double Bass • Sweden
Elke Saller • Marimbaphone • Germany
Zsuzsa Debre • Violin • Hungary | Germany
History of origins
In recent years, the works of the author Christiane Schwarze and the composer Eva Batt have been honoured among other in the form of international artist scholarships.
Their project The Silence of the Shadows – Mosaic of a Search was also supported and led to working stays in France, Sweden and Switzerland.
The aim of the two artists was to give a voice to people on whom a shadow lies (emotionally/socially) – with the means of their art.
(See also TonSatz-Programs: The Silence of the Shadows)
Project Funding
2017 | Centre d'Art Marnay Art Centre | Fondation Ténot | France
2018 | Baltic Centre for Writers and Translators | Sweden
2018 | Visby International Centre for Composers | Sweden
2018 | Canton of Valais & artbellwald.ch | Switzerland
Support
2018/19 | GotlandsMusiken | Visby/Gotland | Sweden
Project Results: A triumvirate of Poetry book, Audio CD and Sheet music
Poetry book | The Silence of the Shadows – Mosaic of a Search
© 2020 Baltrum Verlag, Haßloch/Germany. [ISBN 978-3-752952-66-7]
Audio CD | The Silence of the Shadows – Mosaic of a Search | Poetry & Music
© 2020 Baltrum Verlag, Haßloch/Germany. [ISBN 978-3-00-065828-0]
Sheet Music | Wind played a shadow Melody | duet for violin and double bass
(Setting of the poem Preceded)
© 2020 Gilgenreiner Verlag, Winterthur/Switzerland [ISMN 979-0-700268-32-9]
Encouragement by the Swedish Royal House
The duo TonSatz presented their project to Her Majesty Queen Silvia of Sweden, patron of the German-Swedish Society.
In the course of this, the artists were given a great honour because they were explicitly encouraged in their undertakings.
Quote Swedish Royal House:
"Your Majesty is very impressed by your work and wishes you continued success".
Reviews/Comments
Presentation in the Online Magazin for Jazz Music (jazz-fun.de) | Reviewer: Jacek Brun
Comment by Josué Daniel González (drummer/classical percussionist | Member of the Venezuelan Sistema Nacional de Orquestas):
"Respect to the author Christiane, and the duo TonSatz. I really like the path of your projects, that's a great thing, how the composer has applied the thoughts and perception of the author to her music. I think the art that both have developed reflects in their nice personality and the way to do art. I love the message of encouraging artists: "to grow and to free themselves from darkness – for a better living". That is an amazing inspiration!"
Will be added to the holdings of

the library of the Foundation Lyrik Kabinett (Munich)

the Mediathek Wallis (Cantonal library), Sion/Switzerland
Studios
Recording & Mix

Sandkvie Studios (Visby/Sweden)
Wo ist HIER, Das Moor, Wind Strich eine Schattenmelodie, Das Schweigen der Schatten, Lyrik-Rezitationen. (Mamsjö Grand Piano)
die|tonbox (Amöneburg/Germany)
Burnout, Schattentraum. (Schimmel Grand Piano)
Renaissance Studio Cologne (Germany)
Eingefroren, Sommerschatten. (Bechstein Grand Piano)
Private recording: Lichtberührung. (Steinway Grand Piano)
Mastering
Bauer Studios (Ludwigsburg/Germany), sound engineer Philipp Heck
Videolink: Snippets from the studio recording session | Duo TonSatz on Gotland (3:58 min)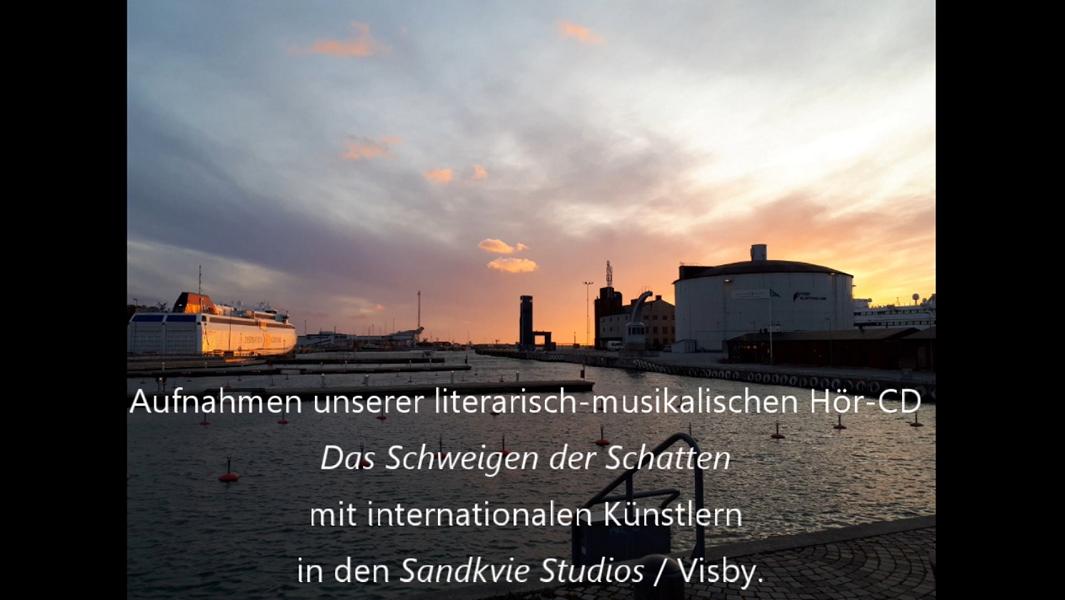 Hearing Samples

Where is HERE? | Recitation & Violin, Piano, Double Bass, Drums/Percussion

Grey the owl's twilight cry | Recitation

Burnout (snippet) | Marimbaphone, Piano, Drums/Percussion

The Silence of the Shadows | Recitation

The Silence of the Shadows (snippet) | Piano, Double Bass, Drums/Percussion

More Hearing Samples on jpc. You can hear the first 20 seconds each:
https://www.jpc.de/jpcng/books/detail/-/art/das-schweigen-der-schatten-mosaik-einer-suche/hnum/9883815